If you have been reading my blog for awhile not, you would know that I think taking care of your skin is very important. It is something that I spend a good amount of time each day doing. I am also big into skin care systems. I do not know what it is, but I prefer to use products formulated to work together in hopes of achieving the best results possible. For about the past ten days I have been using skincare products from Exubrerance.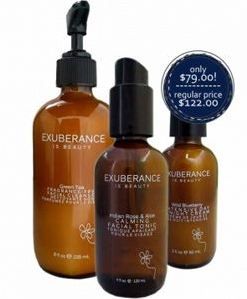 I have been using the 3 step system called the Balancing Facial System. This is for people that do not necessarily only have one problem with their skin. The point of this system is to balance out the skin and bring it back to equilibrium. When it reaches that point, it will eventually become unstable again due to factors such as stress, hormones, and environmental damage. Then the system brings the skin back to equilibrium. It is basically a cycle. I have acne prone skin that is unbalances, so this is perfect for my skin type.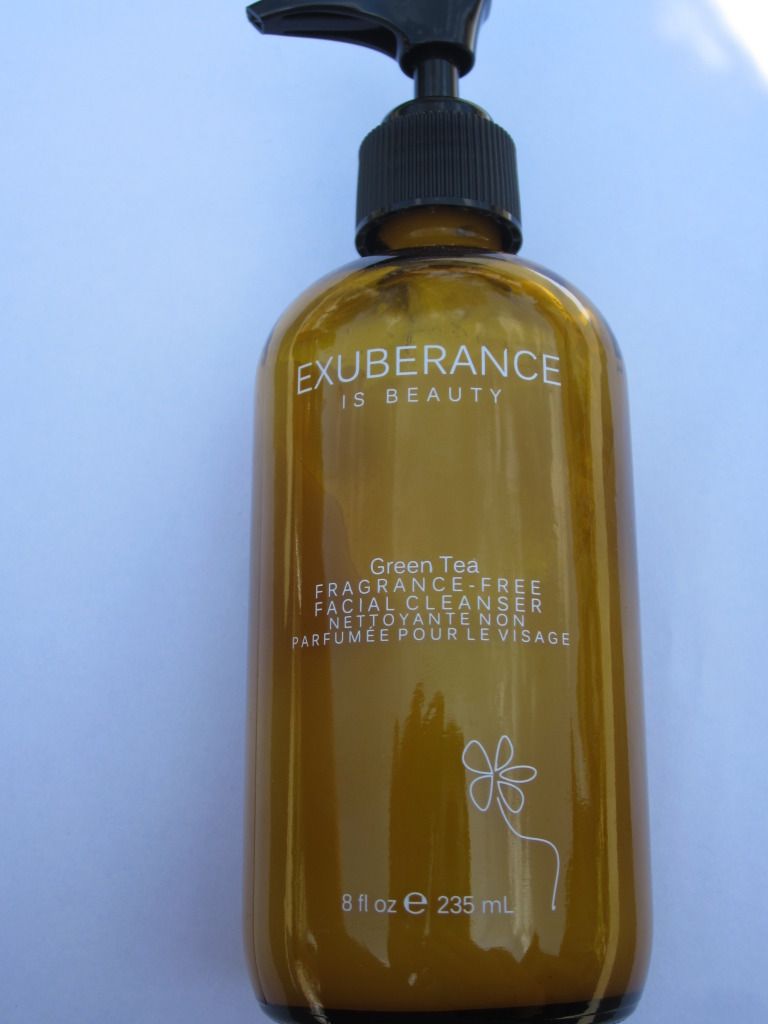 The first step in this three step system is to use the Green Tea Fragrance-Free Cleanser. I would use a full pump of product and gently rub in on to my face. This cleaner does not have a rich lather, but that is not a bad thing. It left my face feeling clean and removed all of my makeup. The cleanser removes bacteria while hydrating and detoxifying the skin. I felt like it really washed away all the dirt from my long day. It is very refreshing. While it is fragrance-free, there is a slight scent that I am not too fond of. Now do not get me wrong, it is very faint and after a few seconds I cannot smell it anymore. Overall, this is a great cleanser.
The next step is the Tangerine & Sugar Maple Balancing Facial Tonic. Now the idea of this product was somewhat new to me. I have never tried before a mist like this. I was very worried that it would leave a greasy feel or a layer of film over my skin. To my surprise, I had no such problem. It absorbed nicely into my skin. I sprayed this on my face after I used the cleanser. I really enjoyed the feeling of my face after I sprayed this and the nice glow my skin gave off. My skin looked very refreshed and dewey almost.
The last step is the Wild Blueberry Intensive Day & Night Cream. This was my favorite smelling product out of the three. It was a light lotion cream. It absorbed right in and made my face feel so wonderful after I used all 3 products. This product contains a high amount of Vitamin C esters and organic fruit extracts to repair the skin and protect is from free radicals. It hydrates just like a good moisturizer should.
This system is to be used twice a day, but I always want to use to more than that since my face and I love it. I really like how long these products are going to last me. Since the bottles are fairly large and only a small amount of product needs to be applied, the products will take me a long while to use them all. I also like that Exuberance's products are paraben free, sulfate-free, color free, free of artificial fragrances, and not tested on animals. This means the products are good for my skin, and it will thank me for using them. I will continue to use this system from Exuberance so it can become balanced, healthy, and beautiful!
How to buy: Online at Exuberance's website
Connect: Facebook and Twitter
Disclosure: I received this item as compensation for an honest review. I did not receive monetary compensation for this post and the thoughts and opinions expressed are my own. I was not obligated to post a positive review.