There is no doubt about it. I am a skincare junkie. I am always using different products to keep my skin looking radiant, smooth, and healthy. Taking care of my skin is something that is important to me. Cleopatra's Choice is an online site filled with skin care products for all types of skin. However, this is not your average skin care site. This company's whole mission is to find the most unique, high quality, effective products all over the world and deliver them quickly to their customer's doorstep. I was able to try two of Cleopatra's Choice's products, and they are unlike any other products I have tried before.
Cleopatra's Choice has a whole variety of products to fit people's needs. They sell products for the face, body, and hair. They also sell Dead Sea salt, makeup, fragrances, and products for men. This company started out by selling Dead Sea products solely, but later expanded to include a whole array of items. Cleopatra's Choice also gives 3 free samples for each order and has a 3 month easy return policy. They rely on repeat customers, so complete satisfaction is their number one priority. Also their products are never tested on animals.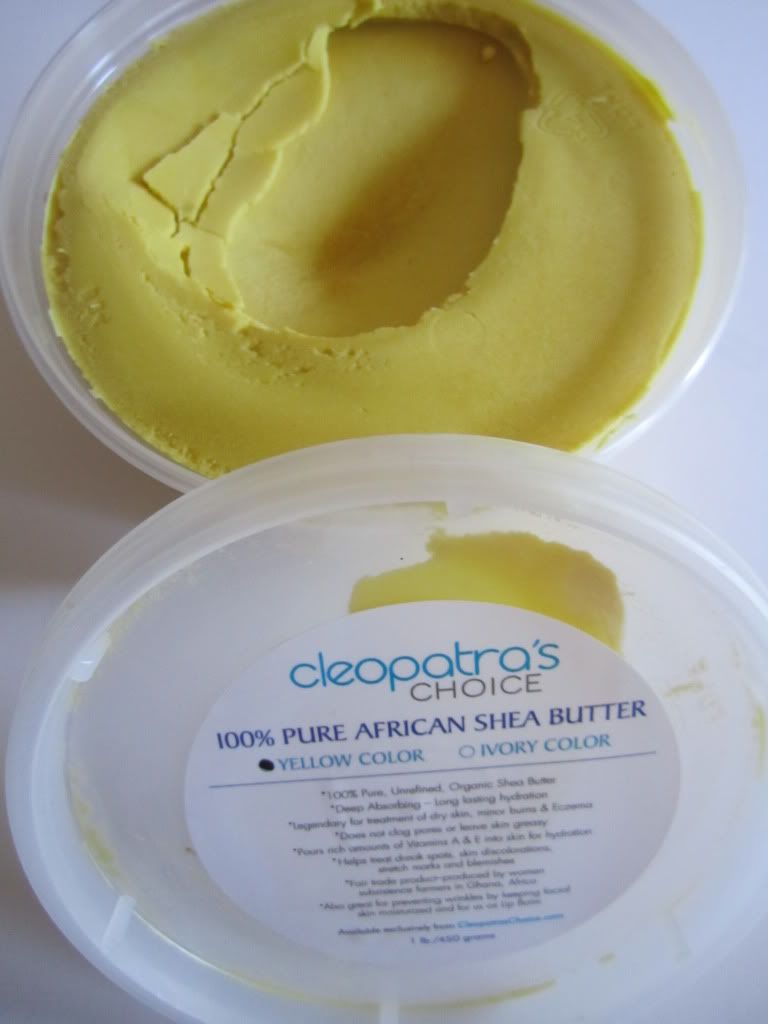 The first product I was able to try is called the 100% Pure African Shea Butter. When I first opened the package and saw this product within the box, the yellow hue made the Shea Butter look like it was food. It definitely is not, but I just have never seen a beauty product that color before. The reason for its color is because the Shea Butter is raw and unprocessed. It is imported from Ghana, Africa. Now Shea Butter is very good for your skin. This products soothes and softens to make the skin look and feel healthier. Since this product contains Vitamin A and E, it makes it great for sun-damaged skin and skin that has wrinkles. It also eases fine lines without clogging the pores. There are just so many benefits from this Shea Butter.
So this was the first time I tried raw Shea Butter, so this was a brand new experience for me. It is kept in a tub and is in solid form. To get some out of the tub, I took a little butter knife and scrapped some out. I put it in my hands and rubbed it around for a little bit to warm it up. After a few seconds, I applied some to my elbows and feet since those two parts on the most dry for me. The Shea Butter absorbed right into my skin and did not leave the greasy feeling left behind. I think it is an excellent, high quality moisturizer. The scent of the product was not necessarily a bad smell, but is a little weird. Since the Shea Butter is raw and 100% natural, I am assuming that is the natural scent of Shea Butter. Overall, I think the product does such a great job as a moisturizer. This tub of Shea Butter will last me a very long time and is very inexpensive.
The second product I tried was the Pure Argan Oil for the Skin & Hair. I actually heard of Argan Oil the first time a few months ago. I do not remember where I read about it, but I do remember that, like Shea Butter, there is a lot of benefits of Argan Oil. It conditions dry hair and reduces frizziness. It also treats blemishes and blotches on the face. The Agan Oil can also help prevent stretch marks and improve skin elasticity. Lastly, it moisturizes dry skin. This bottle of Argan Oil can be used all over the body.
I tried using the Argan Oil on both my hair and skin. For my hair, I sprayed some on to my scalp and hair before I took a shower. I waited about 20 – 30 minutes and then took a shower like I normally would. I did notice a difference in the amount of frizz. My hair can be frizzy and have lots of stray hairs, especially during this humid time of the year. I definitely noticed a decrease in the amounts of flyaways and overall friziness. I use this product every day before my shower. Well when I am not crunched for time that is!
Then I also used the Argan Oil on my skin. I sprayed some on my face and arms and rubbed it into my skin. This rubbed right in. It did not leave a thick, oily residue like I was expecting it to. I was pleasantly surprised. The Argan Oil virtually has no scent as well. This is a product I am glad to have found out about!
I am very impressed with Cleopatra's Choice's products. They carry products that I would not find be able to find at the store. These are unique, effective products that I recommend you check out!
Cleopatra's Choice has been so generous to offer a tub of 100% Shea Butter and Argan Oil to one of my readers! Please enter with the Rafflecopter form below. US, Canada, UK only. Ends 6/3.
a Rafflecopter giveaway
Tweet
Disclosure: I received this item as compensation for an honest review. I did not receive monetary compensation for this post and the thoughts and opinions expressed are my own. I was not obligated to post a positive review.