I think that figuring out a Father's Day gift is so much harder than figuring out a Mother's Day gift. I do not know what it is, but I just think that women are easier to buy for. So when I heard of the Father's Day Balance Bar BARE Gift Set, I just knew this would be a perfect gift. This is not typically what you think of to give, so dad would be pleasantly surprised to see it is not another pair of socks! The gift set includes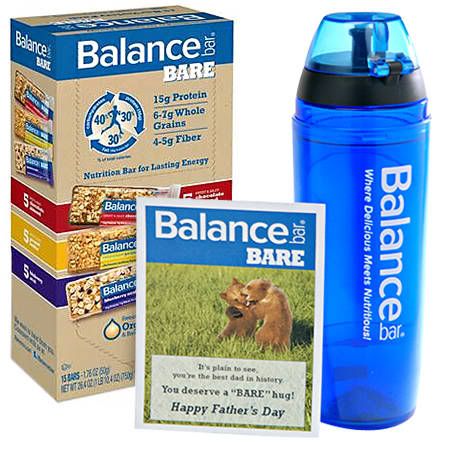 •15 Balance BARE bars in three delicious flavors – Sweet & Salty Peanut Butter; Sweet & Salty Chocolate Almond; and Blueberry Acai.
• an exclusive Balance Bar water bottle with a compartment for storing a BARE bar
• a playful "BARE Hug" Father's Day card
These bars are each 200 calories, have 15 grams of protein, have up to 5 grams of fiber, and up to 7 grams of whole grains. The bars also have 19 vitamins and are an excellent source of antioxidants. The bars also adhere to the 40/30/30 model. This means that 40% of the calories comes from healthy carbs, 30% from quality protein, and 30% from dietary fats. The bars follow this model to satisfy hunger, stabilize blood sugar levels, and provide lasting energy.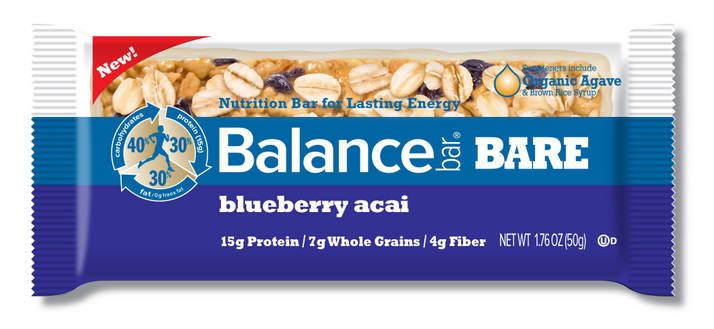 I was able to try the three different varieties of bars that is included in the gift set. The bars have a nice combination of crunchy nuts on top with a smooth and creamy bottom. I can honestly say that I enjoyed each of the three bars I had. The Sweet & Salty Chocolate Almond was by favorite. I loved this bar, because I felt like I was eating something that was naughty and filled with bad things for my body. It is very exciting to find a bar that tastes that delicious.
The Sweet & Salty Peanut Butter tasted and smelled just like a jar peanut butter. I am a huge lover of peanut butter, so I thoroughly enjoyed this bar. If you like peanut butter, this bar is for you. The last bar is the Blueberry Acai. This bar was perfect for when I want a fruity tasting bar. I would have these bars on the go with a piece of fruit and would be kept full for several hours. Most bars do not keep me full for several hours, so I really like that!
This would be the perfect gift for the dad in your life. He could easily slip one of the bars in his briefcase, gym bag, or just a healthy snack to grab around the house. These gift sets are only available in a limited quantity, so be sure to order yours before they sell out. The

gift set

sells for $17.84 and has free shipping within the continental US. Go here to buy the Father's Day Balance Bar BARE Gift Set.
Balance Bar has been generous enough to offer the Father's Day Balance Bar BARE Gift Set to one of my readers. Please enter with the Rafflecopter form below. Ends 6/4. US only.
a Rafflecopter giveaway
Tweet
Disclosure: I received this item as compensation for an honest review. I did not receive monetary compensation for this post and the thoughts and opinions expressed are my own. I was not obligated to post a positive review.