When I think about the makeup I own, I really do not have a lot of eye shadow. Now do not get me wrong, I love it! I think it can really spice up someone's look and can help make a bolder statement. I do have a handful of basic neutral colors that I bought to wear to work. I would say I own maybe three or four different colors. Besides that though, I do not have any fun eye shadows or eye shadow that can create a unique look. I think my big hesitation is the price. A small container of one color of eye shadow can easily cost over $5. I just do not want to pay that for a single color.
I have known about BH Cosmetics for some time now. I remember I would see their eye shadow palettes on different websites and become mesmerized by all the different colors of eye shadow. I would start to think of all the different looks I could create with the vast array of colors. The possibilities seemed to be endless. Now the eye shadow palette I am talking about is the 120 Color Palette.
BH Cosmetics is already on to their 5th edition 120 Color Palette which is the one I was able to try. The big difference I notice with the different editions is the brightness of color. In the 1st edition the colors tend to be a bit more loud and bold. Then by the 5th edition the colors seem to be more subdued and warm with a mix of boldness. So which edition is best for you just depends on what kind of colors you are looking for.
The eye shadows are either shimmer or matte. The different hues include browns, golds, pinks, and purples. Since there are 120 different colors of eye shadow to choose from, this palette is made for every skin and eye type. You are bound to find many different colors that look well. I would be comfortable wearing all of these pretty colors.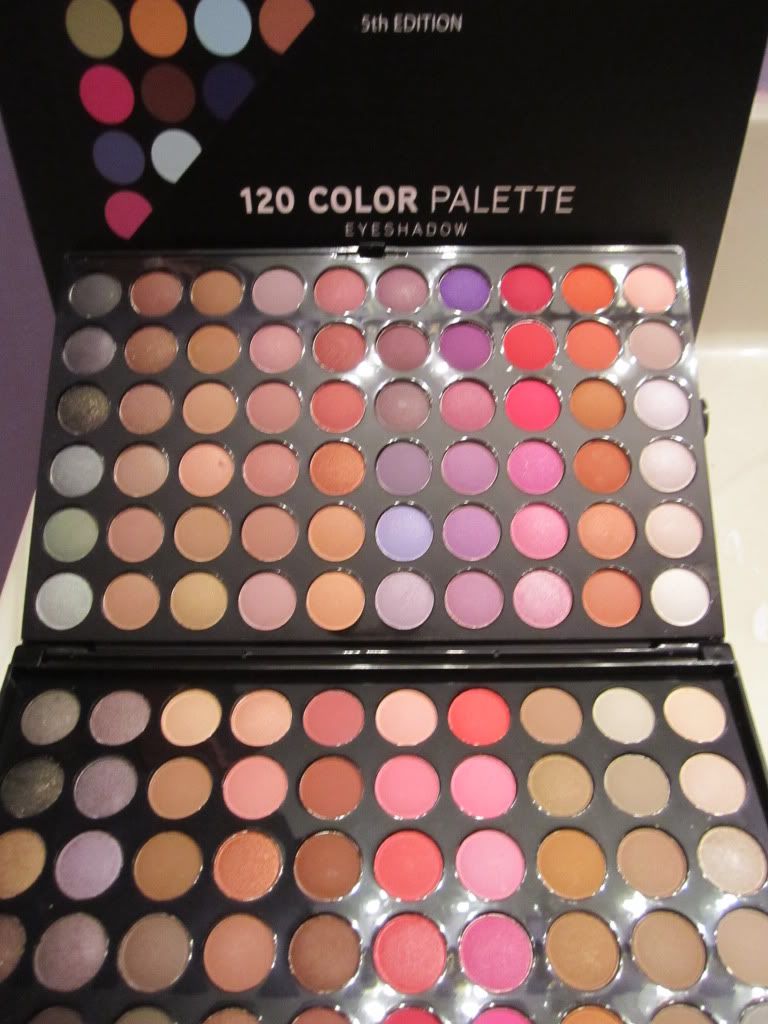 The case that holds the eye shadows is made of thick, durable black plastic. I am able to see my reflection perfectly in the case as well. It is very compact. I would never have guessed that so many different colors are inside the case. The lid lifts up and exposes one tray of eye shadow. To be able to have access to both trays at the same time, I lift the top tray up. It is very easy to lift the top tray out of the case. Then I set it in the lid of the case, and the trays rests perfectly within the lid.
When I first saw all the different eye shadows, I could not wait to start putting in on my eyelids and blending colors. I had no idea where to start, so I just picked a color I thought looked good. I used an eye shadow brush to apply it. The eye shadow went on my brush and skin very easily. The blending of different colors on my lids could not have gone more smoothly. This eye shadow really is made to be applied easily and blend easily. Needless to say, removing it was very simple as well. When I first was experimenting with the different colors, I did not like one of the looks I created. A bit of makeup remover easily took the eye shadow right off. I love that I do not have to scrub to take the makeup off at the end of the day.
Another thing I love is the price of this eyeshadow palette. If each of these colors were sold separately, it would easily be over $100. I am being generous, because I know it would be a lot more! The regular price for the 120 Color Palette 5th Edition is $34.95, but it is on sale for $17.48 (for a short time only!). I do not know of a better deal out there for such quality eye shadow. Plus I love that I feel like the looks that I can create are endless and that I have all the eye shadow colors I could ever want (or for awhile at least!) Only negative I experienced with this palette is that one of the colors have popped out already. However, I am not too concerned with that fact since it sits in the tray. I just am extra careful when I take the trays out of the holder.
The eye shadow lasted on my eye lids all day as well. This is the perfect go to eye shadow palette. I could not be happier with it. The palette could easily be stored in a large handbag, to go from the office look to the night out look. Or if you store it in the bathroom, the sink will not look cluttered at all since the palette is so compact.
Overall, I really like the 120 Color Palette. It contains so many colors. The price is so affordable. The eye shadow is very easy to apply. The different colors mix well together. I plan on wearing eye shadow so much more now that I have this palette.
How to buy: On their website here - HURRY though. The sale price will not last for long!
BH Cosmetics has a lot of helpful Youtube videos when it comes to applying eye shadow!
BH Cosmetics has been very generous to offer one of my readers a chance to win the 120 Color Palette for themselves! Please enter with the Rafflecopter entry form below. Contest ends 5/31. US only.
a Rafflecopter giveaway
Tweet
I received one or more of the products mentioned above for free using
Tomoson.com
. Regardless, I only recommend products or services I use personally and believe will be good for my readers.