We all have something that we love or puts us in a good mood. It could be anything! For me I have a lot of things, like running, friends, shopping, books. Yay! Life! is such a fun company with a positive message that helps you to embrace the things you like in life. This company creates magnets and car magnets. Each magnet is made with bright colors. Yay! Life! sells so many different magnets that you are guaranteed to find one that suits you.
How Yay! Life! Got Started
It all started on a beautiful, crisp winter day in Denver, Colorado. Rachelle had put a pumpkin pie in the oven and when she took it out, Carl said, "Yay. Pie." In his deadpan voice.
Rachelle thought that was pretty funny and being an artist, she immediately went over and drew a little sketch of a pie with steam curling off of it and the words Yay! Pie! around it.
After having coffee and eating pie, Carl and Rachelle went out for a walk with their yellow lab, Belle. They were feeling very grateful to be able to spend a Tuesday afternoon with each other having coffee and pie and walking in the sunshine. They started thinking, "This is what life is all about – gratitude and enjoying life. Everyone has a YAY! THING! that is as unique as they are and YAY! LIFE! was born.
These are the magnets I received. When I see them, I cannot help but be put in a good mood. With the exclamation marks, bight colors, and the wording on the magnets, it just makes me smile. Like for the Love Magnet, it makes me more appreciative of all the people, animals, and things I love. I think having these magnets on the fridge is a good idea. I go to the fridge a lot of times throughout the day, so these magnets will make me feel good over and over.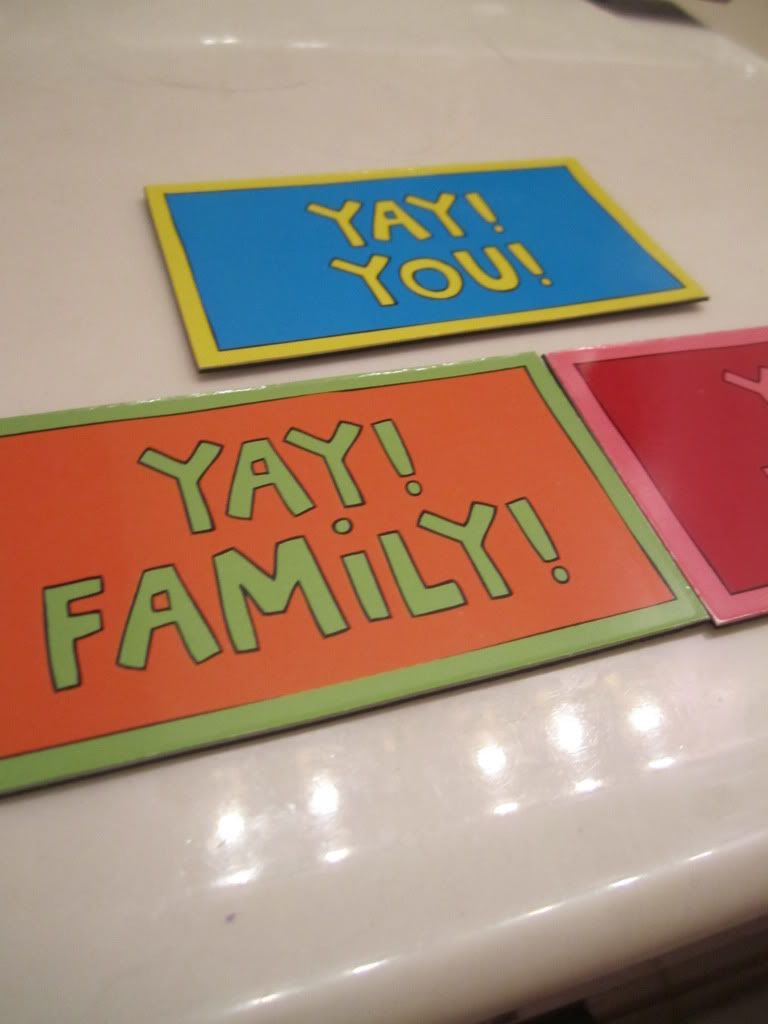 These magnets are pretty thick and will last me a long time. Years I think! They stick very well to the fridge. It is nice to know that they are not going anywhere. I think these are the perfect items to buy for yourself as reminders of all the things that make you go Yay! They also really are the perfect gift as well. It is very unique and with so many different choices, you are sure to find the perfect magnet for the person you are buying for. It will show that you really put a thought into the present!
I love everything about Yay! Life! The selection is huge. The price is so affordable. The colors are awesome. This is such a unique item that you cannot help but loving. Plus Yay! Life! is very involved giving back to the community. Right now they are working with several different hospitals and organizations. It is nice knowing that some of the money goes back to the community. I really recommend Yay! Life! and think you should check them out.
Yay! Life! is very generous is going to be giving 5 (that's right 5!) magnets to 5 different winners! Please enter with the Rafflecopter form below. US only. Ends 4/21.
a Rafflecopter giveaway
Tweet
Disclosure: I received this item as compensation for an honest review. I did not receive monetary compensation for this post and the thoughts and opinions expressed are my own. I was not obligated to post a positive review.