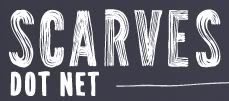 One of the things I love about spring, is that it is time to bring out my spring clothing. I can get rid of the darker, heavily clothing and start wearing colorful, lighter items. A favorite of mine is spring scarves. It is such an easy way to really make my outfit stand out. I can easily wear a basic plain colored fitted tee with a scarf, and it looks like I really put an effort into my outfit. The big problem I have though is that the selection in the stores is so limited. There always seems to be just a handful of scarves in either colors or patterns I am not looking for. Scarves.net is an amazing website I have found. This site carries the biggest selection of scarves I have seen at such affordable prices.
I absolutely love Scarves.net. All their scarves are under $40, but all the ones I have been interested are well under $20. There is no way I can buy a scarf in the store at a price like that. Their selection is huge, and the site makes it easy to navigate through all the scarves. I can search by color, pattern, material, season, price, shape, trend, length, and more. All these options make it very easy to find exactly what I am looking for. Also, their scarves are just so fun and fashionable. When I start looking through their scarves, I end up wanting lots of their scarves because they are so cute!
I spent a lot of time deciding which scarf I wanted. I mean a lot of time! I finally decided on the Julianne Floral Scarf. I choose this one, since it reminds me of spring. I thought a floral scarf would be perfect. I also really like the yellow, teal, and dark blue colors in the scarf as well. I have worn my scarf for two full days already and received so many compliments on it. The scarf was very comfortable to wear around my neck all day. It is pretty warm where I live right now, but I had no problem with my neck being hot or anything.
I really like the fringe at the ends of the scarf. The quality of the scarf is what I would expect in a scarf. I know it will last me a very long time. It is also the perfect length for me as well. This scarf will go with many different color tops, so it has lots of flexibility. I think this scarf is the perfect accessory to really make my outfit stand out!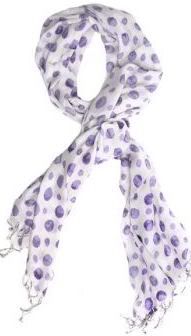 When I wear a scarf, I tie it the same way. Scarves.net has developed this awesome page called the Knot Library. They have come up with 50+ ways to wear a scarf. This feature is really neat, because it then gives you detailed instructions on how to wear your scarf like the picture. I never knew that there are so many ways to wear a scarf. Overall, I am absolutely impressed with Scarves.net. If the scarf is in stock, it will be shipped out the same day. Plus the prices are the best I have ever seen yet the scarves are very fashionable and are high quality. Scarves.net is a scarf lover's dream come true!
How to buy: Go here to browse through all the scarves Scarves.net sells
Thanks to Scarves.net one lucky winner will receive a $20 gift code to Scarves.net. Please enter with the Rafflecopter form below. Must be a resident of the US. Ends 4/23.
Tweet
Disclosure: I received this item as compensation for an honest review. I did not receive monetary compensation for this post and the thoughts and opinions expressed are my own. I was not obligated to post a positive review.