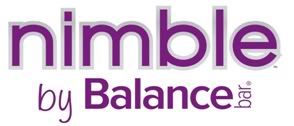 Since I am on the go during the week, I rely a lot on protein/energy bars to keep me going strong. I am sure you all have heard of Balance Bar and maybe you have even tried their bars before. I am always switching up bars, so I eat Balance Bar's products pretty frequently. They actually just created a new product called nimble, which is unlike any other bar out there. Balance Bar says that nimble is the first nutrition/energy bar for woman with a beauty bonus.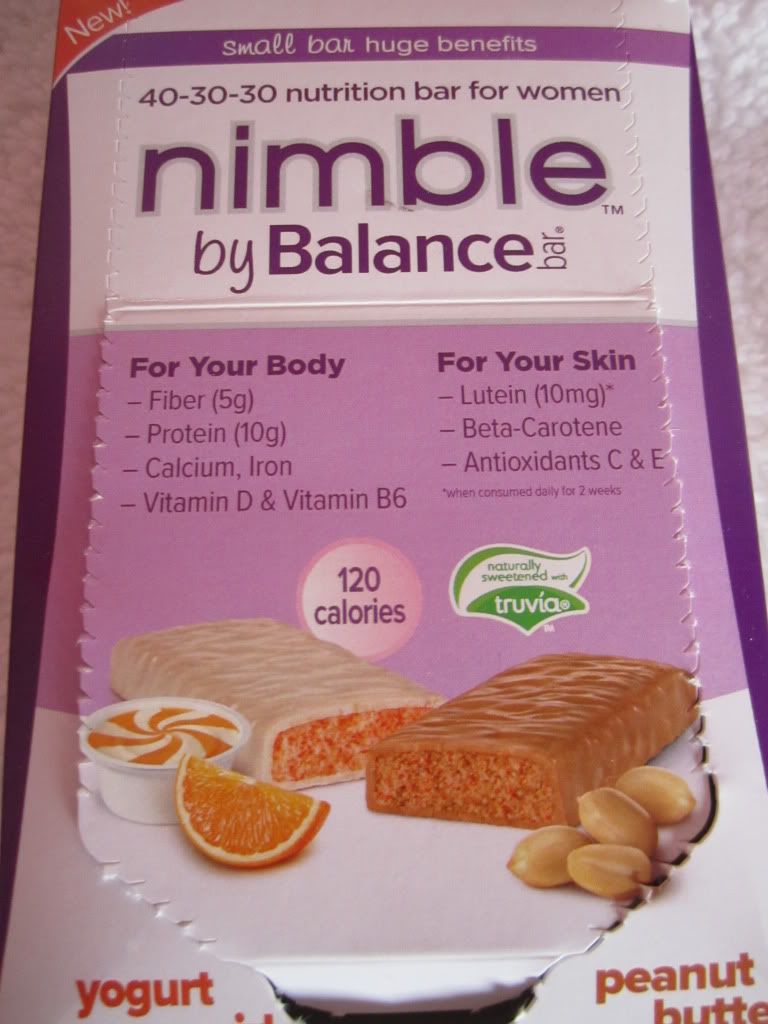 I know when I am on the go, I do not have time to think about what I should and should not eat. With nimble, they take all the guess work out of it. nimble bars take on the 40-30-30 approach of 40% carbs, 30% proteins, and 30% fat. This combination will help stabilize blood sugar, reduce inflammation, steady your mood, and increase your energy. And how does the beauty bonus come in? Well the vitamins, antioxidants, and minerals found within nimble will help you maintain healthy skin.
Each nimble bar is 120 calories and fits across the width of my palm.
The two flavors available are Yogurt Orange Swirl and Peanut Butter.
nimble is the first bar to be made with
Truvia® rebiana, a natural zero calorie sweetener. nimble also contains 7 key ingredients that every woman should have in her daily diet.
·
Fiber
provides digestion health and a satiated feeling to make it easier to keep healthy eating on track.
·
Protein
gives you lasting energy, without any harsh blood sugar spikes that can cause you to overeat. (The protein in nimble is 100 percent whey protein and does not include soy.)
·
Calcium
is widely known for its importance to lasting bone health, but it also aids muscle function and nerve function. Vitamin D aids the absorption of Calcium, so pairing the two together provides lasting benefits.
·
Vitamin B6
is a micronutrient that provides a stabilizing effect to your blood sugar and helps your immune system.
·
Iron
carries oxygen to your tissues, and is essential for resisting fatigue and poor concentration.
·
Folate
offers multiple benefits to women, for reproductive health and beyond.
I was able to try both flavors of nimble. I was most excited to try the Yogurt Orange Swirl one, since I have never had a bar in that flavor before. It reminded me of those orange dreamsicle ice cream treats. I can't say I LOVED it, because really who absolutely loves the taste of protein bars? But the bar was really good and a nice change from the normal chocolatey bars I normally have. Plus it is a softer, chewier kind of bar so I liked that as well.
Then for the Peanut Butter bar. If you like peanut butter, than I am sure you will like this bar. It reminded me of the center filling of a Reese's Cup. It is soft and chewie like the orange one. So I thought it was pretty tasty!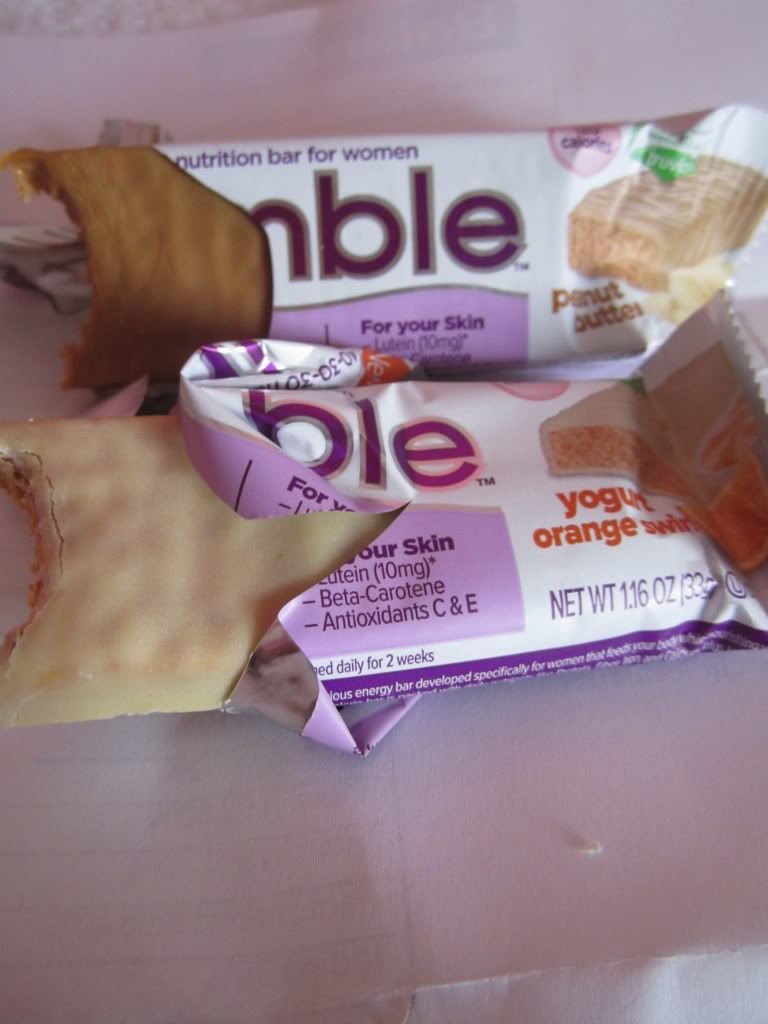 nimble bars are the perfect pre-workout snack or a snack in between meals. I really like that it contains 10g of Protein to get me through the afternoons when I need a pick me up snack. nimble has created tasty bars that I will sure to try again in the future!
Tweet
Disclosure: I received this item as compensation for an honest review. I did not receive monetary compensation for this post and the thoughts and opinions expressed are my own. I was not obligated to post a positive review.