I am gone all day during the week, so I am only am able to apply my makeup in the morning. I need to be sure that my makeup lasts me all day. Makeup primer is a must for the makeup to set properly and last all day. Reviva Labs sells unique skin care products that fit every woman's needs. This company sells specialty beauty products including Brown Spot Lightening Cream, Light Skin Peel, Vitamin E Oil Stick, Firming Eye Serum, and more! Their products are never tested on animals and made with no animal ingredients.

For over 38 Years Reviva Labs has been producing all natural skin-care products that help leave your skin healthier and more youthful-looking.
Reviva Labs products are sold in professional skin care salons and health food stores worldwide, which attests to our product's effectiveness and safety.
Reviva Labs
is one of the most unique skin-care brands in the cosmetic industry.
Reviva's products are not conventional commercial items. Established in 1973 to serve the newly emerging skin-salon market, the Reviva line is comprised of skin treatments created for skin professionals demand for individualized formulas that meet specific needs.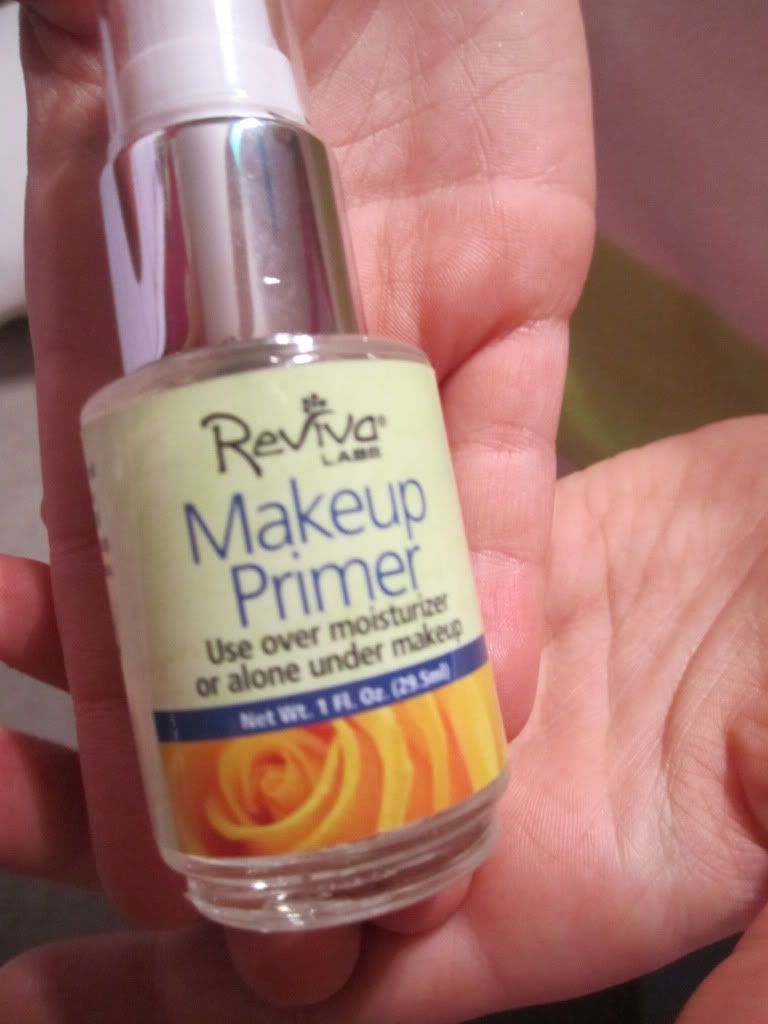 I tried the Makeup Primer by Reviva Labs. I tried this product the past three days under my makeup to see what I really thought of it. After I would get out of my morning shower, I would put a very light coat over my face. Actually only a small drop is needed on your forehead, each cheek, and above your jaw line. The bottle of makeup primer will last me a long time since I do not have to use that much on my face. I like that! When I put the primer on my skin, it rubbed right in. I was worried that it would feel oily after I put it on my face, but it did not feel oily at all. The primer does not have a smell either.
I notice a huge difference when I use Reviva Labs's Makeup Primer under my makeup and when I do not use it. First off it did a really good job at keeping my makeup in place throughout the day. Due to the winter weather, I have a few dry spots on my face. The primer smoothed the dry spots and I no longer noticed them. The primer also did a good job at controlling my oily skin. I noticed that my skin was not as oily as it normally is and my skin felt extra smooth.
The makeup primer works very well, and it did more than I expected it to. I loved that it controlled the shine and kept my makeup looking fresh all day. I would really recommend this product to any lady who uses makeup who wants smooth skin, wants their makeup to last all day, and fill in lines/conceal pores.
You can buy the Makeup Primer by Reviva Labs here for only $19.50
How to buy more products from Reviva Labs: Go to their website
Connect with Reviva Labs: Facebook and Twitter
Reviva Labs is offering their Makeup Primer to one of my readers! Please enter with the form below. US only.
a Rafflecopter giveaway
Tweet
Disclosure: I was not compensated for this post. I received the product mentioned above for review purposes only. The opinions expressed are entirely mine.