I recently tried goat milk soap for the very first time. I had heard about goat milk soap before and that there were benefits to using products that contained it, but somehow had not had the opportunity to try it out. Plus I knew goat milk soap was supposed to be better than standard soap, but I was not sure why. Lucky for me, I was able to try Homemaid Expressions' products. These products are all handmade.
Homemaid Expressions
creates soap and also lotion candles and lip balms. These are natural products that I loved using.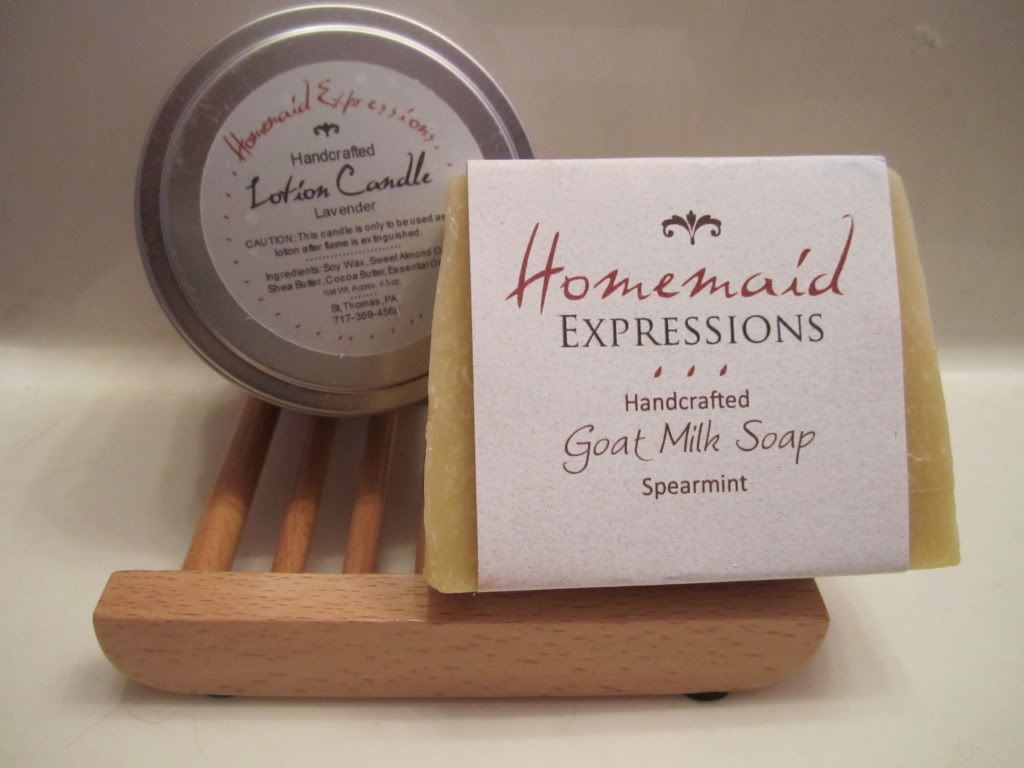 About Homemaid Expressions:



My soap making adventure began two years ago when our fridge was overflowing with milk from our 2 Nubian dairy goats, Annabell & Josephine. I thought it would be fun to try making soap so I began by reading anything I could find on the subject of goat milk soap. There was so-o much to learn! Where is the best place to purchase ingredients? What should I use for molds? How should I cut and wrap my soap? How long does it need to cure? Should I try to market my soap, make it just for fun-or both? :-) Once my curiosity was satisfied, I set out to purchase the ingredients and a few basic tools like a digital scales, stick blender, large stainless steel bowl, spoons, molds and a small, basic soap cutter. And so began my soap making adventure!

I have since expanded into making other natural skin care products to include Lotion Candles and Lip Balm. I am learning the value of using therapeutic grade essential oils and organic carrier oils and hope to include more of them in my products in the near future.
Homemaid expressions sells many different scents of soap. I ended up choosing the Spearmint Goat Soap. The scent smells just like I expected it too, and it is pretty strong. When I opened the box my products were shipped in, I instantly smelled the spearmint soap. I like for scents to be stronger, so I really like that about the soap. When I used the goat milk soap, I used a loofah with it. I noticed it does not lather as much as a generic bar of soap, but it does still lather. It did clean my skin very well, and my skin smelled so good after my shower. I know the soap will last me awhile too.
The goat milk soap is only made with goat milk. There is no water or evaporated milk in it. The soap is created with goat milk, olive oil, coconut oil, sodium hydroxide, spearmint essential oil, and grapefruit seed extract. The soap is scented with pure essential oils. I finally find out the benefit of goat milk, so I want to tell you in case you do not know. Goat milk is a natural moisturizer. So if you have dry, itchy, or irritated skin this is a must have product. Or if you are just wanting your skin to be extra moisturized and soft (like me!) this product is good for you.
I learned something else about goat milk soap too! It is essential to have a soap dish that allows the soap to dry. You have to let the soap drain. If you do not, the soap starts to dissolve and basically turns to mush. This dish holds the soap perfectly, so I highly recommending buying this to extend the life of your goat milk soap.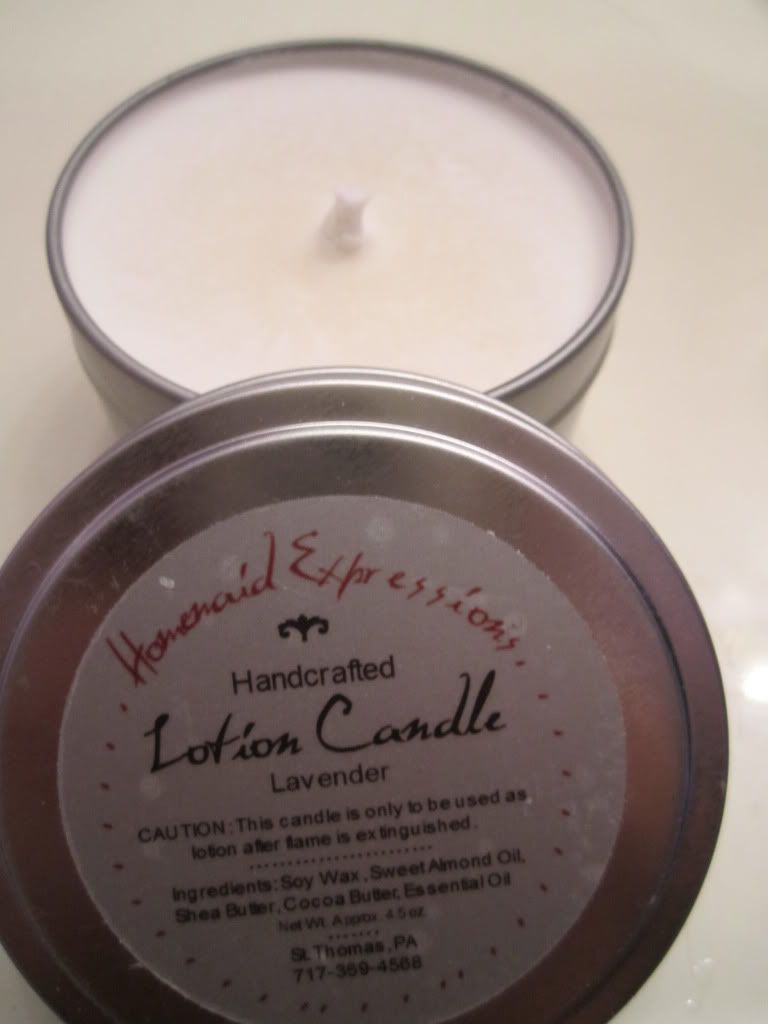 Homemaid Expressions' candles have two different uses: as a candle or as a lotion/moisturizer. The candle is a soy candle. There are different scents to choose from. I ended trying the
Lavender Lotion Candle
. This one smells really good and just like lavender. The scent carried throughout the upstairs of our house. It was nice being able to smell it in all the bedrooms.
The candle is made with soy wax, sweet almond oil, shea butter, coco butter, lavender essential oils. These ingredients are perfect for moisturizing your skin. The soy wax melts at nearly skin temperature. So when the wax had meted a bit and warmed up, I blew the candle out and poured some on my skin. I was scared to pour it at first, but when it touched my skin it was just very warm. The soy wax felt good. It rubbed right in and made my skin feel nice and soft. Pus I love the smell of the candle so I liked having the scent on my skin.
Homemaid Expressions sells natural products to moisturize your skin with. I am always amazed how people can create their own soaps and candles. It looks so difficult to me. The two products I tried worked very well, smelled yummy, and I would completely recommend. I did not try the lip balms, but I bet they work very well too. I see why goat milk soap is so popular. It makes your skin feel so soft and smell good. Homemaid Expressions does a very good job at making goat milk soap and lotion candles!
How to buy: Go to Homemaid Expressions' website
Connect: Homemaid Expressions' blog
a Rafflecopter giveaway
Tweet
Disclosure: I was not compensated for this post. I received the products mentioned above free of charge for review purposes only. The opinions expressed are entirely mine.