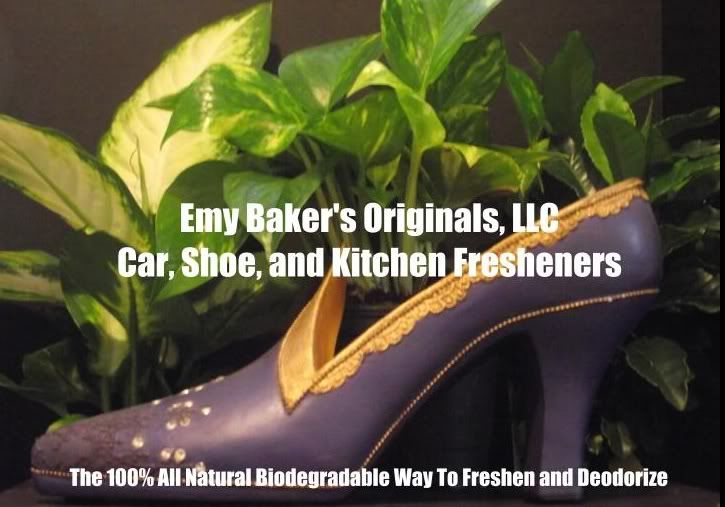 Emy Baker's Originals sells products that all women should have. This company
uses a green manufacturing process, and all their products are environmentally friendly. All of their products are 100% biodegradable and packaged in 100% recyclable material. This company cares about the environment. Plus the products are made in America! Emy Baker's Originals sells shaving oil, body scrub, Kitchen Teas, Dorm Teas, and Car Teas. (If you are wondering what the tea products are, keep reading. I will tell you!)
About Emy Baker's Originals:
At Emy Baker's Originals, LLC, green isn't just a word, it is a way of doing business, but not "business as usual". For us doing business means providing a safe and eco-friendly way to freshen your living spaces - be it your homes, cars, big rigs, RVs or boats. Doing business means manufacturing 100% biodegradable fresheners that travel with you, whether it is for work or for pleasure, and personal care products that are healthy alternatives to what is currently available in the marketplace. But most importantly our mission is to create partnerships with every consumer and business interested in reducing the carbon footprints that take their toll and change our environment forever.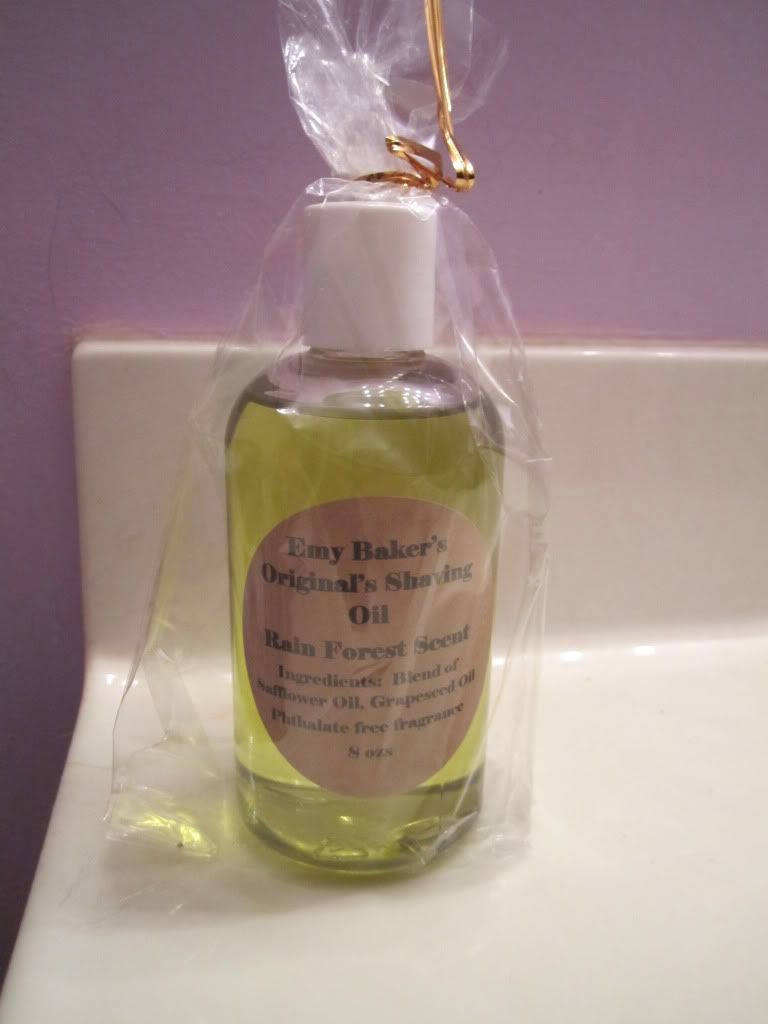 This is the Emy Baker's Original's shaving and massage oil. I was able to try out the Rain Forest scent, but a few other scents include Peppermint Vanilla, Garden Mint, and Black Amber. When it comes to shaving my legs, I do not use any shaving lotion or cream. I know I should do it, but I think shaving cream is a pain. It always seems to wash off before I even have a chance to start shaving. When I heard about this shaving oil, I was very interested in trying it! I never have before, so I wanted to see if the shaving oil could work for me.
I tried out the shaving oil today. I shaved one leg with it and the other leg without to see if I could tell a difference. The first thing I noticed when putting the oil on was the smell. I do not know how to describe it, but I do know I liked it! The oil went right on my legs, and it actually stayed on. It was so nice that while I was shaving, it was still on my legs (instead of washing off like shaving cream does for me). It also just glided right off my leg. After I was done, I just stuck my leg under the water and the excess shaving oil washed right off. I then shaved my other leg like I normally do.
After I got out of the shower, I was ready to see if I could feel a difference, and I actually could! The leg I used Emy Baker's Original's Shaving Oil on was able to remove all the hair. I could not feel any at all! If I pushed down and rubbed the leg that was not shaved with the shaving oil, I was able to feel a little hair. Plus I did not have to use any lotion of the leg I used the shaving oil on. Normally I need to use lotion to soothe my legs, but I did not need it. My leg also felt very soft afterward.
I am very impressed with the Emy Baker's Original's Shaving Oil. I was able to get a lot closer shave and it moisturized my leg. The ingredients in the shaving oil are Grapeseed Oil, Jasmine, florals, a blend of citrus and a hint soft, light woodsy fragrances. These ingredients will not harm the environment now or in the future. It does not contain alcohol, which dries out your skin. Some of the leading shaving creams contain alcohol. It also extends the life of your razor. I really enjoy the shaving oil and will be definitely using it a whole lot more.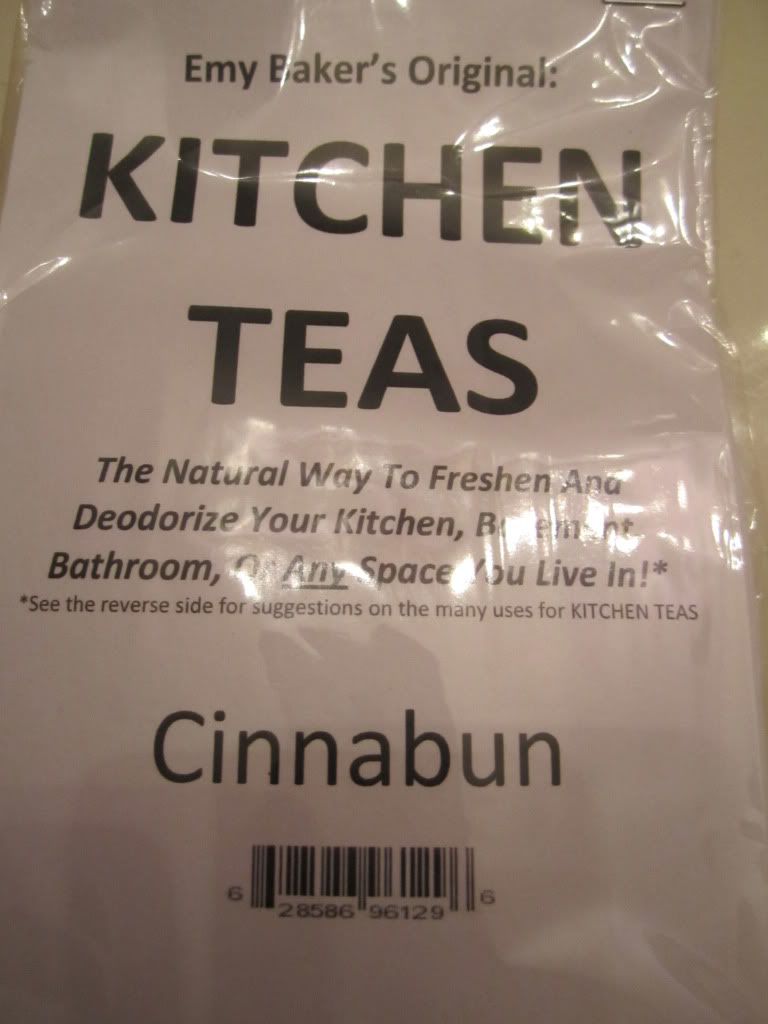 I also received the Kitchen Teas in Cinnabun to review. The Kitchen Teas freshen and deodorize the odors in your home in a natural way. You can also put this in your bathrooms, basement, bedroom, or anywhere really! When I opened the packaging of the Kitchen Tea, I was engulfed in a warm, cinnamon smell. It smells like fresh baked cinnamon rolls. I actually ended up putting this in one of our bathrooms. I put it behind one of the flower arrangements we have in there. I went in the bathroom about an hour later, and the bathroom already smelled like cinnamon.
I like that the Kitchen Teas really make the room fill up with yummy smells. It is very discreet too, so it is easy to hide it behind something if you want it to be hidden. The ingredients are stored in a tea bag, which is how the product gets its name!
How to buy: Go to Emy Baker's Originals website
Emy Baker's Originals is offering one of my readers their Shaving Oil in Rainforest and Kitchen Teas in Cinnabun!
a Rafflecopter giveaway
Tweet
Disclosure: I was not compensated for this post. I received the products mentioned above for review purposes only. All opinions expressed are entirely my own.