A fun thing about being is lady is that we get to feel pretty. But it is so easy to get caught up in your life and forget to do little things that make all the difference to you. Feeling pretty can make you have a fabulous day. There is a company named Pretty Girl Makeup that will make you feel just like a pretty girl. The company was founded by Christina Fuch, a FORD makeup artist who knows exactly what it means to be a pretty girl. She has created a high quality makeup and body care line.
Pretty Girl has all your beauty needs covered. This company sells lip stick, lip gloss, eye shadow, blush, and makeup brushes. Then for your body, they sell sugar scrub, bath bombs, shea butter cream, and Aloe Vera shea butter. Plus all their items have such fun names like Perfect Pout, Honey Butter Me Up, and Rich Husband. This makeup brand has even been worn by celebs including Kelly Clarkson, Miley Cyrus, Tori Spelling, Nicole Richie, and Renne Zellweger. Very cool!
I was able to try Honey Rough Me Up in the citrus scent. It is a sugar scrub perfect for leaving your skin feeling extra smooth. When I used it, I scooped some out of the container with my hand. Then I just rubbed it directly on my skin with my hands. I gave my feet extra attention too. It did such a great job at softening up my skin. I felt so clean afterward. I absolutely love the smell too. I do not know how to describe it except that it is a yummy citrus scent that will be sure to wake you up in your morning shower. It is also soft enough to be use on your legs after shaving as well. Honey Rough Me Up is the perfect body scrub, and it will leave your skin wanting more.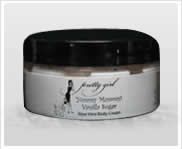 I also tried Yummy Mummy. This Aloe Vera Shea Butter Cream really is yummy! This is product is loaded with good stuff for your skin, like Aloe Vera and Shea butter. It is made for people with dry skin, stretch marks, or tried/swollen feet. I ended up using it on my feet, legs, and hands which seem to be the driest areas for me. This is an awesome moisturizer that does not leave your skin feeling greasy. It rubs in very easily and is not too thick. Yummy Mummy has a warm vanilla sugar scent that will make you want to keep applying it just so you can keep smelling it.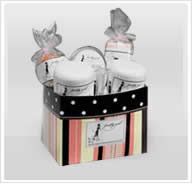 Between using Honey Rough Me Up and Yummy Mummy, I have noticed a big improvement in how soft my feet are. I think all the running I have been doing has been making them pretty rough, so I am so happy these products have worked so well for me. Pretty Girl Makeup sells high quality beauty products that I want to try more of. I already have my eye on their bath bombs and blush. Pretty Girl also sells the cutest gift baskets which would be absolutely perfect for any girl that wants to feel like a pretty girl!
Pretty Girl Makeup has been generous enough to offer my readers a 15% off code. Use the word Pretty
How to buy: Visit Pretty Girl's website
Tweet
Disclosure: I received this item as compensation for an honest review. I did not receive monetary compensation for this post and the thoughts and opinions expressed are my own. I was not obligated to post a positive review.