Well I was talked into signing up for a half marathon. A friend of mine wanted me to run in a local half marathon with her that is coming up on April 7th. My first thought was that she is crazy. Does she not realize who she is talking to!? The longest race I have competed in is a 5K. The half marathon is 10 miles longer than that. That is a huge difference. Sure we have run together before, but not 13 miles!
I went running today and was able to jog for 40 minutes without stopping. Now the reason I stopped was not because I was tired. The temperature was dropping and the wind really started to pick up. I stopped because it just got so cold out and I was only in a short sleeve shirt. I could have kept going a lot longer.
I finally decided why not sign up. I will be able to run with someone who runs at the same pace I run at, so I will not have to do it alone. But the main reason I decided to sign up was to push myself. I have never done anything like it before. I decided to ignore the voice in my head that was saying that I cannot do it, and actually try to do it.I may not be able to run the entire 13 miles without walking, but I am okay with that! I know that I have not been training long enough for that. I just want to be able to really push myself these next four weeks and see just how fast I can complete a half marathon.
If I complete the half marathon (which I will make myself) I will receive this medal.
I will keep you all posted! :)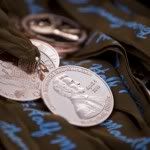 Tweet