So I recently purchased the stainless steel Kitchen Aid mixer off one of the tv shopping channels. After I purchased it, I had serious buyer's remorse.

I could not believe I had spent over $250 on a mixer! When I already had one! I told myself that I was going to return it as soon as I got it. All I could think about was what I could do with all that money. About a week later, the package arrived on my doorstep. I took it out of the main box. The mixer was alluring and I knew I could not send it back! So I didn't
J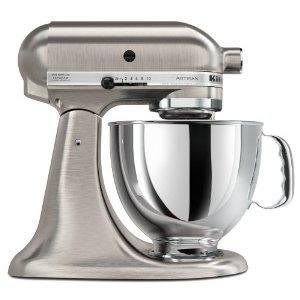 This was about a week ago. I had been just so busy with school and work that I had not had time to use it yet. It was sitting so beautifully on my kitchen counter. Now all day at work today I was craving chocolate chip cookies. I think we can agree that store bought cookies do not even compare to homemade cookies. When I got home, I decided it would be a win-win if I made the cookies. I could use my new mixer and satisfy my relentless sweet tooth.
I sure do understand why Kitchen Aid can charge a whopping $250 and have people buy it. The mixer is amazing. I did not have the butter at room temperature when I made the cookies. I had just taken it right out of the fridge. With a hand mixer, it would have been a complete nightmare trying to beat up the butter. With my Kitchen Aid mixer, it was no problem. I also love that I do not have to stand there and mix the ingredients up. I feel that it saved me countless minutes by allowing myself to prep the next ingredients while the mixture was mixing.

My tasty chocolate chip cookies!
OVERALL: It is very pricey, but worth it. I feel that this mixer will last for many years. It is great at churning up butter, which I dreaded having to do in the past. It also really mixes up the ingredients thoroughly. If you are a baker and do not own one of these, put it on your Christmas wish list!